Lady Lucy's Ghost Quest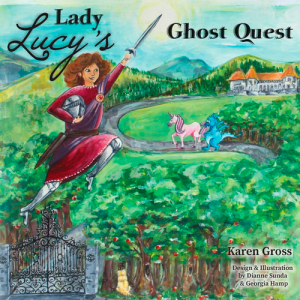 Lady Lucy's Ghost Quest is the 4th book in the Lady Lucy's series about a multi-racial heroine who becomes a knight in the Middle Ages.  In this beautifully illustrated sequel, Lady Lucy and her friends Dillon (the dragon) and Tapestry (the unicorn) travel all the way from England to Vermont to save a vacated but spectacular mansion occupied by ghosts.  
In a story filled with charm, humor and excitement, Lady Lucy demonstrates yet again the power of the possible, the capacity to find creative solutions to difficult situations and the recognition that what we fear might not be so dangerous after all. Join her and her friends on this amazing new Quest! You won't be disappointed.
Forthcoming Book: Lady Lucy's Dinosaur Quest
---
Buy the Book