The Feeling Alphabet Activity Set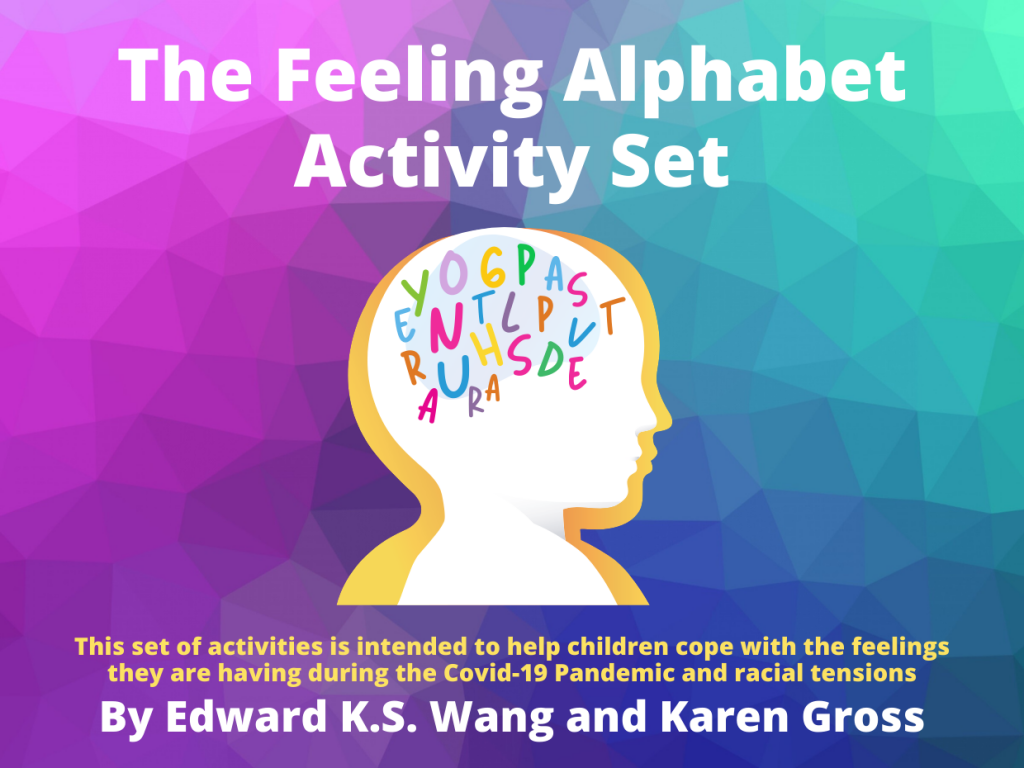 The Feeling Alphabet Activity Set is a digital resource to help students, families, teachers, community members identify their feelings including feelings generated by Covid-19 and recent racial tensions. You may purchase this activity set and print the pages to experience the exercises, drawings and images.
The premise of The Feeling Alphabet Activity Set, co-authored by Dr. Ed Wang and Karen Gross, is that it is critically important to be able to name one's feelings (negative and positive ones alike).
If you cannot name feelings, then you cannot tame them.
Since feelings lead to thoughts and behaviors, identification of feelings is a first step in managing the difficult times we are in globally with social distancing, protests, masks, school reopenings in a myriad of forms, transitions of a wide-ranging sort and uncertainty.
The many activities offered can be done in short increments of time and can be done with others or alone. And, they can be repeated because feelings change, another valuable observation.
This activity set can be used by people of all ages and stages; the activities can be ramped up and down. And, they are fun and engaging. It is NOT a work book — with the emphasis on work.
Instead, it is about finding a pathway into one's feelings. It is right priced too so it can be used by many without financial stressors.
It is our hope that when you use The Feeling Alphabet Activity Set you will share the results with us, including additional exercises, drawings and new images. We will also create an online forum for sharing and we will post new editions of The Feeling Alphabet Activity Set that include the work of our readers within them.
The Feeling Alphabet Activity Set is available as a digital download directly from the author for just $4.99. Users may print the pages for use. The link below will take you to the Karen Gross Education store.
About the Authors
Karen Gross
Karen Gross is an author and educator who specializes in trauma and student success academically and psychosocially. In addition to her writing and speaking engagements, she teaches students of all ages and at all stages from PreK through graduate school. She is the author of more than nine children's books (in addition to her adult books), all of which are trauma responsive. She is the pet parent of the Feeling Sleuth-Hound.
Ed K.S. Wang, M.S., Psy.D.
Edward K. Wang, a grandparent and psychologist, promotes the social and emotional well-being of children across the globe. As the Director of Policy and Planning for the Division of Global Psychiatry, Massachusetts General Hospital, a former member of the National Advisory Council, Department of Health and Human Services and a public steward of the Massachusetts Department of Mental Health, he continues to call attention to the resiliency and hope, growth and healing of mental ill adults and children.
Ed K.S. Wang, M.S., Psy.D.
Director of Policy and Planning
Chester M. Pierce MD Division of Global Psychiatry
Massachusetts General Hospital
Assistant Clinical Professor of Psychology, Part-Time
Harvard Medical School
617-872-4234, ekwang@mgh.harvard.edu; ed.global.diversity@gmail.com
http://www.mghglobalpsychiatry.org/staffpages/edwardwang.php
http://http://www.mghglobalpsychiatry.org/
Buy the Book
ENDORSEMENTS
"The Feeling Alphabet Activity Set is a wonderfully innovative way to engage people of all ages to recognize and name specific feelings through creative activities. This activity is so important during these challenging times of COVId-19 and racial discord especially for families and communities to pay attention to emotional wellbeing that this resource affirmatively promotes."
Francis Lu, MD, DLFAPA
Kim Professor in Cultural Psychiatry, Emeritus, UC Davis
---
"Feeling Alphabet Set is an effective and powerful set of practical ways of identifying your feelings and that of your children. Once we can name our feelings, we can manage them in a healthy way and more importantly in a reaffirming way for our children. During these unprecedented times , the Feeling Alphabet Set is a refreshing way for families to navigate the uncertainty of this chapter in our history."
Sandra McCroom
President & CEO
Children's Services of Roxbury, Inc.
Boston, Tewksbury, Worcester & Northhampton Massachusetts
---
"The Feelings Alphabet activity book is perfect for our organization. We work with children, youth and families disproportionally impacted by Covid and the current racial tensions. When schools pivoted to virtual platforms we had to quickly figure out a plan to best support parents and students. This activity book provides an easy to understand closer look at the many challenges we are currently facing and how they affect both children and adults.  Most important is the fact that it offers real life scenarios and science backed age appropriate interventions to help children and youth gain some understanding about their feelings. As we practice the activities and they start to gain an understanding of the connection between thoughts, feelings and behavior the logical next step is to empower them with practical options for taking action. "
Adriana Cordero Raines
Community Engagement, Strategic Partnerships & Volunteer Manager
CASA Boston
---
"This activity set gives parents, teachers and caring adults an important tool to help children understand, accept and cope with their emotions in this challenging time. It empowers caring adults to help children turn negative events into growing experiences. The skills taught in this activity set can be applied to most adverse experiences, not just the pandemic and racism during the time it is written."
Ming Wang, LCSW, Program Administrator, Utah Division of Substance Abuse and Mental Health.
---
"The Feeling Alphabet Activity Set" is a wonderful resource for educators and clinicians navigating the complex needs of our students and families during these uncharted times. The window into the effects and impact on a students ability to cope and learn due to "stress and emotions" during the transition to our 'new normal" is invaluable when planning strategies to assist student growth. The practical activities are a wonderful road map for school staff to assist the learner in moving forward. Thank you Dr. Wang and Ms. Gross for this tool to help guide us in a time of uncertainty.
Anne Carol Malone M.ED. 40 years in Special Education
Director of Professional Development and Volunteers COMPASS