My Pocketbook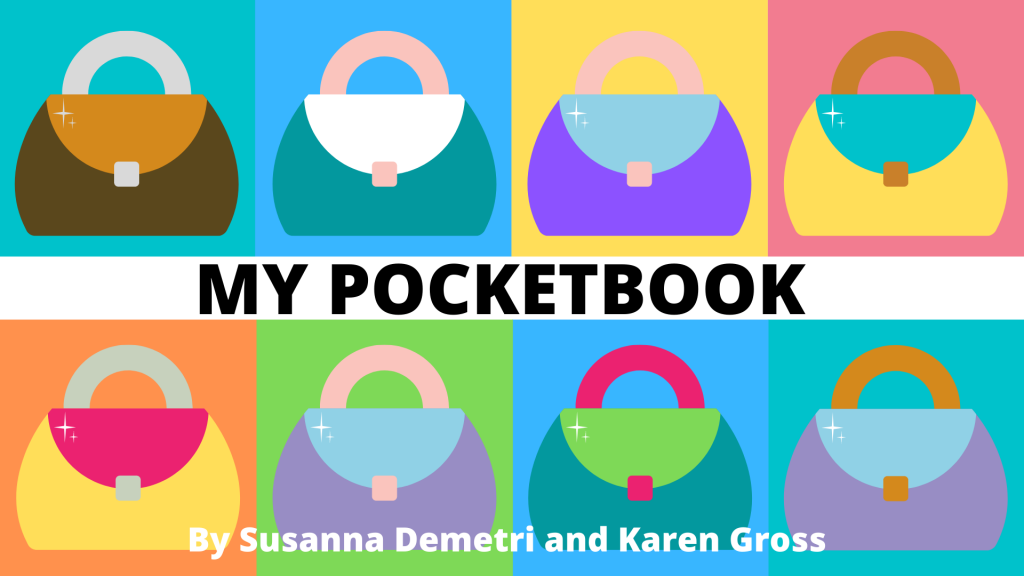 My Pocketbook is a story for readers of all ages and stages of life. It is the story of a young girl carrying a pocketbook throughout her life, describing what was in that pocketbook as she matured and what the pocketbook itself means and meant to her. The story is told in the first person and along the way, we learn the central character had a career and children and now grandchildren. It could be anyone's story. It can be read and re-read, with readers supplying their own "pocketbook" anecdotes.
Within the story, there are illustrations that can be completed by readers, decorating their own pocketbook. After the story, there are questions that adults and children can reflect upon, including on the history of pocketbooks, all designed to encourage reader engagement.
This story, like many written by Karen Gross, is trauma-sensitive. Pocketbooks, along with other objects, are often carried by adults and children to provide comfort. They are technically known as "transitional objects" and enable people to manage separation more comfortably. With the trauma of the pandemic among other issues, the ability to navigate forward is critically important for all.
Buy the Book
Or listen to the audio book on YouTube –
Advance Praise
Love this book! Reading it brought back memories of my Mom; she always wanted her purse with her wherever she was, even in the years she had dementia. My Pocketbook is a book to share.
Karen Roller, retired clothing retailer, Gloucester, MA
---
Susanne Demitri and Karen Gross have written a beautiful story that depicts the importance of transitional objects in childhood and throughout the life cycle. This charming Pocketbook book will validate and educate while entertaining people of all ages.
Dr. Donna Friedman, Early Childhood psychologist, NYC
---
Something really struck me about the story about the pocketbook. It was so relatable to me because my mother never goes anywhere without hers. When I was young, I would search throughout her purse regularly, finding goodies and different receipts. Shiny coins and cases of lipstick … I learned that something as simple as a pocketbook actually represents much more.
Bunker Hill Community Child Psychology Student, Spring 2022
---
Karen Gross' books leave you hanging on every word. She leaves you wanting more. She always captures you, embraces you, educates you and leaves you with a huge smile on your face with a sense of understanding and total glee…and she gives you her pocketbook!
Jackie Coogan, Adjunct Faculty, Bunker Hill Community College, Spring 2022